Did you know your browser is out of date?
To get the best possible experience using our website we recommmend that you upgrade to a newer version or other web browser. IE8 is no longer supported. A list of the most popular web browsers can be found below. Click on the links to get to the download page.
We are open to supply essential services with urgent product requirements. Call 0800 BAY ENG
SQWINCHER
SQWINCHER L 2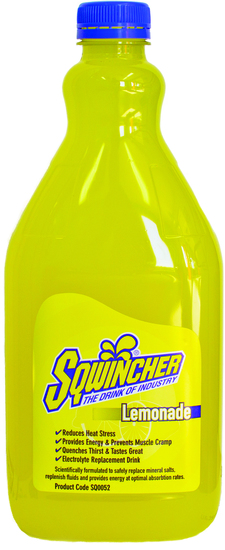 MANUFACTURE CODE: SQ0052
Your Price

Description
Lemonade Sqwincher Electrolyte Replacement Drink - 2 Litre
Replenish mineral salts, sugars and fluids at optimal absorption rates with Lemonade Sqwincher Electrolyte Replacement Drink.
A two litre bottle of Sqwincher will make up to 20 litres of Electrolyte Replacement Drink
This product is ideal for workers or athletes working or playing in hot, humid environments
Reduce risk of injury and increase productivity
Low in sodium
Low cost per serve
Tastes great
Sqwincher is available in six other flavours as well!
Product Enquiry