Did you know your browser is out of date?
To get the best possible experience using our website we recommmend that you upgrade to a newer version or other web browser. IE8 is no longer supported. A list of the most popular web browsers can be found below. Click on the links to get to the download page.
We are open to supply essential services with urgent product requirements. Call 0800 BAY ENG
SPILL USP1015-E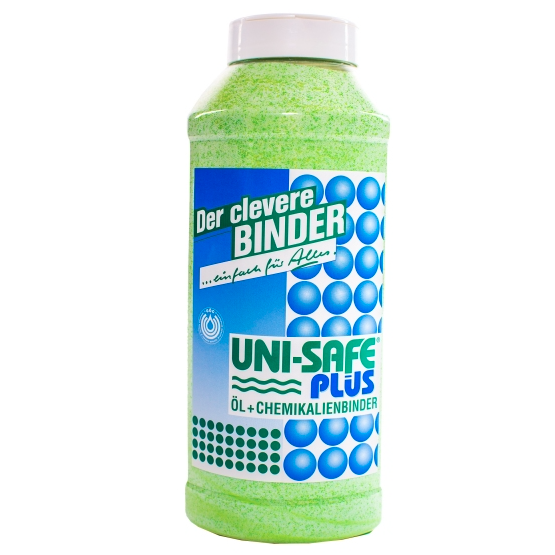 MANUFACTURE CODE: USP1015-E
Your Price

Description
Uni-Safe Plus 1800ml Bottle
UNI-SAFE is a chemical and oil binding medium universally applicable to all liquids. UNI-SAFE is the latest generation of the UNI-SAFE technology, developed by Öko-Tec and the Chemical Industry.
UNISAFE is a mix of super absorbent polymers designed to work with different liquids. The main polymer rapidly absorbs any water based liquids, while the secondary polymer absorbs olefin materials (unsaturated hydrocarbons). It also contains a synthetic inorganic material which physically absorbs anhydrous substances by capillary action. Finally, a food colour with indicator effect gives the product it's green colour and indicates whether you're absorbing an acid (turns yellow) or alkaline (turn red/orange).
Easy to spread on spills
Turns any liquid spill into a gel to stop it spreading
Locks in spills so they won't leak or leach
Reduces adhesion to surfaces
Provides an emission barrier
Does not cause dangerous reactions
Is approved for use on roads (slip test)
Absorbs immediately
Indicates acids and alkalines by an effectiveindicator
Can be used in intense rain without the release of pollutants
Can be used in all kinds of applicators or spreaders
Low usage rate means less cost, less storage andless waste to dispose of
Product Enquiry