Thu, December 7, 2017 | Competitions

Jingle's Christmas Facebook Giveaway
The Holidays will be here before we know it and 'Jingle' our cheeky Elf on the Shelf is giving away some fantastic prizes.
You need to get in to win.
Hop on to the Bay Engineers Supplies Facebook Page ----> Here.
1) Give the Bay Engineers Supplies Facebook page the 'Thumbs up' if you haven't done so already.
2) Then share with us two (2) names of your 'Naughty' friends and two (2) names of your 'Nice' friends.
That's it!
Be sure to tell others to enter as well.
We'll be checking all Facebook submissions December 18th, 2017 and we'll announce our prize winners on December 19th, 2017.
Enter as many times as you like.
Four Friends and a thumbs up for the Bay Engineers Supplies Facebook page = One Entry.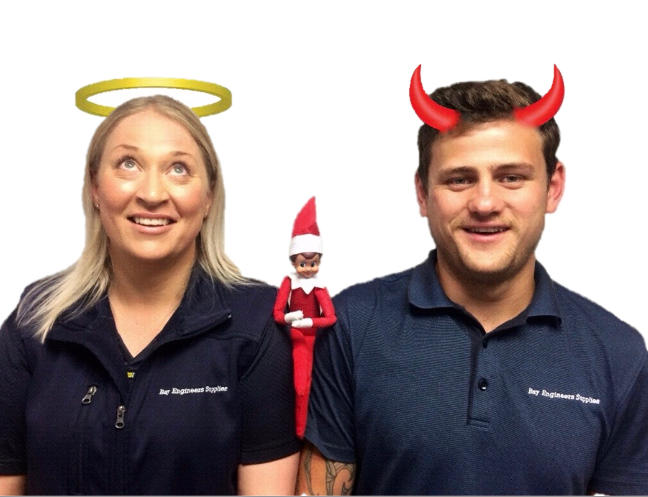 Who can enter?
Entrant must be a resident of New Zealand.
Persons and contractors whom are employed by Bay Engineers Supplies Limited or associated companies, as well as their immediate family members are not eligible to enter. (No parents, spouses, siblings, children.) Sorry team.
Entries will not be accepted by telephone, email, snail mail or any other methods than those written below.
Facebook Promotion
We need you to "Comment" on our Facebook page - Tell us four of your friends names. Give us the thumbs up to stay in the loop!
We'll be adding posts around the giveaway leading up to the prize draw and look forward to seeing how many likes and comments they receive.
Please note that the Facebook promotion is in no way sponsored, endorsed or administered by, or associated with Facebook in any way. You are providing information to Bay Engineers Supplies and the BGH Group.

Important dates
Jingle's Christmas Facebook Giveaway will commence on December 7th, 2017 at 2:00pm.
The competition closes on December 18th 2017 at 11:59am.
Winners will be notified within 48 hours of competiton close on our Facebook page and may also be announced on our website. You will be contacted by email or through your own Facebook page.
Collecting prizes
Prizes can be collected from one of our Bay Engineers Supplies locations or we will send the prize to you. The decision will be at the discretion of Bay Engineers Supplies. Winner may be required to show proof of identification upon pick up. Prizes can not be swapped for cash.

The fine print and privacy
By entering this competition you accept these terms and conditions. Information on prizes how to enter forms part of these terms and conditions.
Your contact information will not be shared with any other third parties. You may at times receive emails for other promotions from Bay Engineers Supplies in the future which you have the ability to unsubscribe from at any time.
As a condition of accepting the prize winners agree to the use of their name, as well as image and photos for publicity and promotional purposes without additional compensation and agree that Bay Engineers Supplies Limited will own the copyright in any such images and photographs and in all material incorporating the photographs.
Participants who are under the legal age of 18 and not competent to enter into contracts may be required to provide a written statement of authorisation/consent from their parental or legal guardian.

If a potential winner cannot be contacted, fails to respond in a timely fashion, fails to accept Bay Engineers Supplies Terms and Conditions, or does not comply with these rules, the potential winner forfeits the prize and Bay Engineers Supplies may select a new winner.
Good luck!